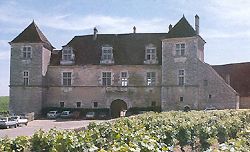 On Christmas Day, 1098, nine months after the community arrived at Cîteaux, the monks received from the duke of Burgundy a vineyard near the Château de Meursault. A few years later, Gaudri de Chambolle presented the abbey with another vineyard, contiguous with this towards the north, and Hugues le Blanc de Vergy another which joined it in the south. These donations were followed by others at Aloxe, at Corton and Les Petits-Musigny. By the middle of the twelfth century some of the great names of the Côte d'Or were already in the hands of the Cistercians and the extensive vineyard of Clos de Vougeot had been established. In 1164 a papal bull, issued by Alexander III, placed the abbey of Cîteaux and its vineyard under the protection of the Holy See.
The group of buildings which go to make up the Clos de Vougeot are among the most attractive and interesting examples of architecture in Burgundy. Both the cuverie -a cloister in which the pressing and vinification took place- and the cellar belong to the twelfth and thirteenth centuries. They are severely but beautifully functional. The château, in which Jean Loisier, forty-eighth abbot of Cîteaux, entertained his more important guests, dates from the Renaissance and is a fine example of its style.
Nothing could be more impressive than the enormous presses situated in the corners of the cuverie. It would be perfectly possible to make wine here today.