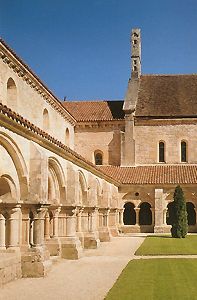 L'abbaye de Fontenay
The founding of Cîteaux by Robert de Molesmes in 1098 gave birth to the new Order. Eleven years later Stephen Harding from Sherborne became abbot and was soon joined by St Bernard and some thirty companions. From then there was no looking back. Pontigny, La Ferté also in Burgundy, Clairvaux and Morimont were colonized by Cîteaux. Soon Clairvaux was ready to colonize and founded Trois Fontaines in 1115 and Fontenay in 1118. It forms a most beautiful group of buildings and offers an object lesson in the dignity of austerity.
The buildings of Fontenay are clearly articulated, so that church, chapter house, refectory and scriptorium can each be identified, and to each is given an architecture which is subtly graded according to the status of the component part.
Obviously the church occupied the first rank ; in this the art of building was taken to its highest degree. In second place came the chapter house. From here was regulated the life of the community ; here the Rule of St Benedict was read each day and here offenders against that rule were punished. It was given an architectural excellence appropriate to its importance. It is a most accomplished piece of quadripartite vaulting. In line with the chapter house, and across the passageway which connects the cloisters with the garden, the scriptorium offers a slight but significant contrast. It is a fine building, but it lacks refinement. A third example of the same architectural procedure is in the old forge, which stands to the south of the claustral buildings in order to use the current of the stream to turn its wheels. In the centre of all these buildings the cloisters formed the unifying link, offering a covered way between one part of the monastery and another, and an area of great peace and beauty.
| | |
| --- | --- |
| | |